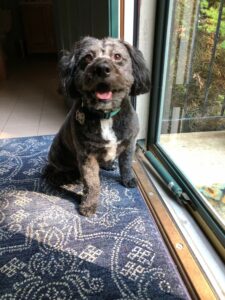 Toby
When we were confronted with the awful news that our sweet boy Toby was sick with something that just wouldn't go away or just get better, we were devastated. The vet only gave him days or maybe a week. He was only 7 years old; it was/is so unfair. We needed so much more time……
I could not bear to see my little boy leave this world on a cold steel table in a vet's office. He deserved so much more. I remembered a friend telling me about how she let her baby go in her home, peacefully with a sense of dignity and grace. The angels that helped her were called Final Journey.
From the minute I called, they treated me with such compassion and empathy. They know how hard it is to make this decision to begin with. They were able to see us almost immediately, within a few days, which was all Toby had. They kept the "business" part to a minimum and instead sent me resources to help with my extreme grief.
When Dr Klie arrived, she and her technician Sophia took the time to make sure we were ready (if ever you could be ready for such a thing). They got down on the ground and gave Toby all the required belly rubs and ear scratches. They took the time to hear Toby's story, explain the process and we did not ever feel rushed. Toby was able to sit on our laps in his favorite spot and drift away peacefully getting all the kisses and love we could give him until his last breath. It was absolutely the best gift we ever could give him. They even let me carry him out to the car and the technician rode with him on her lap the whole way back! They also personally delivered his ashes to us as well some time later and spent even more time with us to help us make sense of our grief.
I highly recommend Final Journey if you too ever have to make this heart wrenching decision for your best friend. Being able to say goodbye to our sweet little boy with dignity and in the comfort of home has helped me with the difficult grief process. We are so grateful to have been able to give Toby this final gift.
Steve & Joan