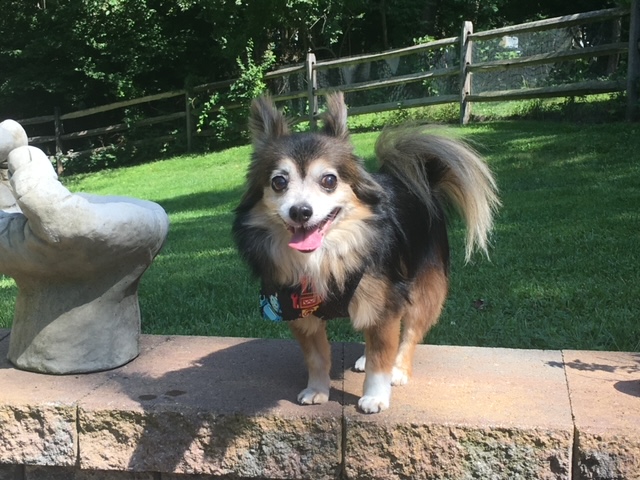 This is Mr. B., Dr. Klie's pet that passed away last year. He was such a good boy!
Complete and submit the form below to share memories of your beloved companion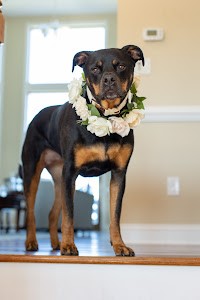 Mia
Everything has been so lovely, Dr. Kris & Elissa & Apryle provided everything we needed and more, from the communication every step of the way to the heartfelt note, clay pawprint and the complimentary grief resources, they made this hard process a smooth as it could be and took care of our special girl Mia. 
~Deanna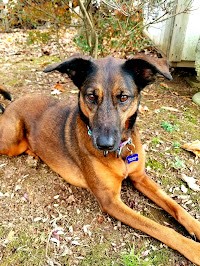 Bella
I can't thank Final Journey, Dr. Kris Klie, and Nathalie enough for making the passing of my dear sweet Bella as peaceful, calm, and stress free as possible. They were kind, compassionate, and caring on one of the most difficult days and treated my sweet girl like she was their own. They are truly special individuals for offering this amazing service. I could not imagine having my precious girl get anxious and stressed by going to the vet for her final trip. Having her in the comfort of home, surrounded by familiar things, calm, and at ease. My heart is broken over the loss of her, but my final gift was to end her suffering in the most peaceful way possible.
~Jacqueline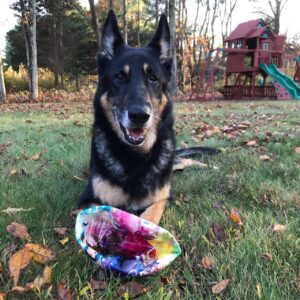 Baar
We lost our best friend yesterday. Dr. Klie and Kayla were kind, professional and caring. We wanted a peaceful transition and we can't thank Final Journey enough. They made a tough decision a little easier. We highly recommend Final Journey. Thank you for your compassion and we truly appreciate the care you gave Baar.
~Gary & Heidi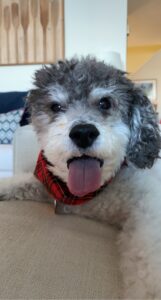 Buddy
Dr. Emily and Ashley were amazing to come to our family home to have our sweet Buddy put to rest. Extremely hard time for our 16 year old dog; we are so happy and grateful that they were able to make him as comfortable as possible. It was truly a peaceful experience for our family to be there for Buddy.
~Elizabeth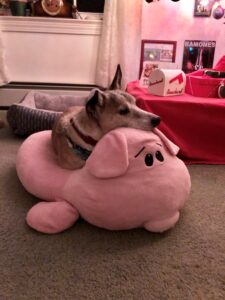 Jax
Mike and I would like to sincerely thank Dr. Judy Wotton and technician Stacey for their truly empathetic care in helping us say goodbye to our little Jax (on October 4, 2021). I sure wish we had known of your services when we said goodbye to our first dog, Hammer. In home was so much more personal. Saying our farewells was easier in a familiar setting, not clinical. I would highly recommend Final Journey to anyone needing to make that awful decision.
Thank you again for your wonderfully caring service. Thought you'd like to know we've since adopted Lil Bit, a rat terrier mix, on October 22nd. I'm sure Jax had a paw in sending this snuggle bug to us 
Sincerely,
~Karen Bouchard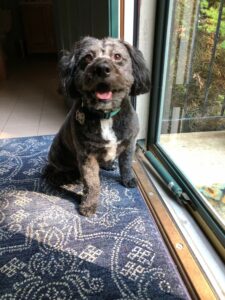 Toby
When we were confronted with the awful news that our sweet boy Toby was sick with something that just wouldn't go away or just get better, we were devastated. The vet only gave him days or maybe a week. He was only 7 years old; it was/is so unfair. We needed so much more time……
I could not bear to see my little boy leave this world on a cold steel table in a vet's office. He deserved so much more. I remembered a friend telling me about how she let her baby go in her home, peacefully with a sense of dignity and grace. The angels that helped her were called Final Journey.
From the minute I called, they treated me with such compassion and empathy. They know how hard it is to make this decision to begin with. They were able to see us almost immediately, within a few days, which was all Toby had. They kept the "business" part to a minimum and instead sent me resources to help with my extreme grief.
When Dr Klie arrived, she and her technician Sophia took the time to make sure we were ready (if ever you could be ready for such a thing). They got down on the ground and gave Toby all the required belly rubs and ear scratches. They took the time to hear Toby's story, explain the process and we did not ever feel rushed. Toby was able to sit on our laps in his favorite spot and drift away peacefully getting all the kisses and love we could give him until his last breath. It was absolutely the best gift we ever could give him. They even let me carry him out to the car and the technician rode with him on her lap the whole way back! They also personally delivered his ashes to us as well some time later and spent even more time with us to help us make sense of our grief.
I highly recommend Final Journey if you too ever have to make this heart wrenching decision for your best friend. Being able to say goodbye to our sweet little boy with dignity and in the comfort of home has helped me with the difficult grief process. We are so grateful to have been able to give Toby this final gift.
Steve & Joan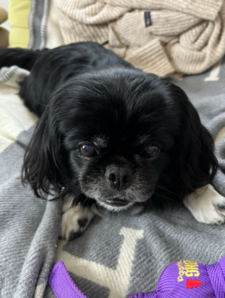 'Romeo' Battista
Dear Final Journey,
I just want to say how incredible your service is. Dr Sarina and her assistant were so kind and treated my Romeo with great respect and dignity. We were in the garden, in the sunshine and Romeo never left my lap during the procedure. It was so calm and he had no anxious trauma, unlike the euthanasia that I had experienced at a veterinary hospital. When we were ready to say goodbye Romeo was swaddled like a baby, carried to the car and driven off in the lap of the doctor. I cannot say how relieved we were to have a positive experience for our little man. I am full of gratitude.
Thank you again, Kathy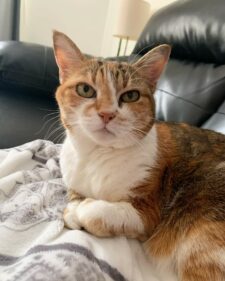 Mia Soter
Hi team
Thank you for your kindness during the most difficult time of my life thus far. I wanted to share Mias memorial for your memorial page.
Mia came into my life when I was 28 years old. From the moment I saw her we became inseparable. Looking back on our life together, I truly believe God placed her in my parents back yard tree that Fall day because he knew I needed a pure, unconditional and loyal love in my life at that time. Mia is my best friend, my soulmate the only living and breathing creature that gave me more in 14 years than I could imagine in a lifetime. Our connection and memories over the years will forever keep her spirit alive for the rest of my life until we are reunited again. Mia's diagnosis of heart disease came out of nowhere and I never imagined I would lose her this soon. I wasn't prepared to accept her fate that the doctors delivered last month but again God knew we needed more time to accept the inevitable and gave us a month together to make the most of the little time we had left. The decision to euthanize her was the hardest decision I have ever had to make in my existence. I sat with it for a few days wondering if I could get just one more day with her until finally I asked God and dear friends for guidance and realized keeping her alive for me was no way to honor the incredible and unbelievable life we shared together. Mia's love was selfless, unwavering and her loyalty could never be repaid. It kinda makes me laugh a little because here I am talking about a cat but truth be told many people will never understand or experience a connection and love as pure as we shared. Not only was Mia my child, she was my best friend, my therapist, my study partner, my dinner date and so much more. She was the light of my life and I am going to be broken without her here with me for a very long time. I read something recently that said it's better to say goodbye a month too early than a day too late. I would rather set her free from any illness or pain than to keep her here for my comfort and fears. Mia will be missed every day that passes but I pray she is always with me and lets me know she's there. Thank you, Mia. Thank you so much for fighting so hard up until the end. You have made me a better person and I am forever indebted to you. Just when I think the tears have run dry I realize they are endless. RIP 4/17/08 – 1/22/23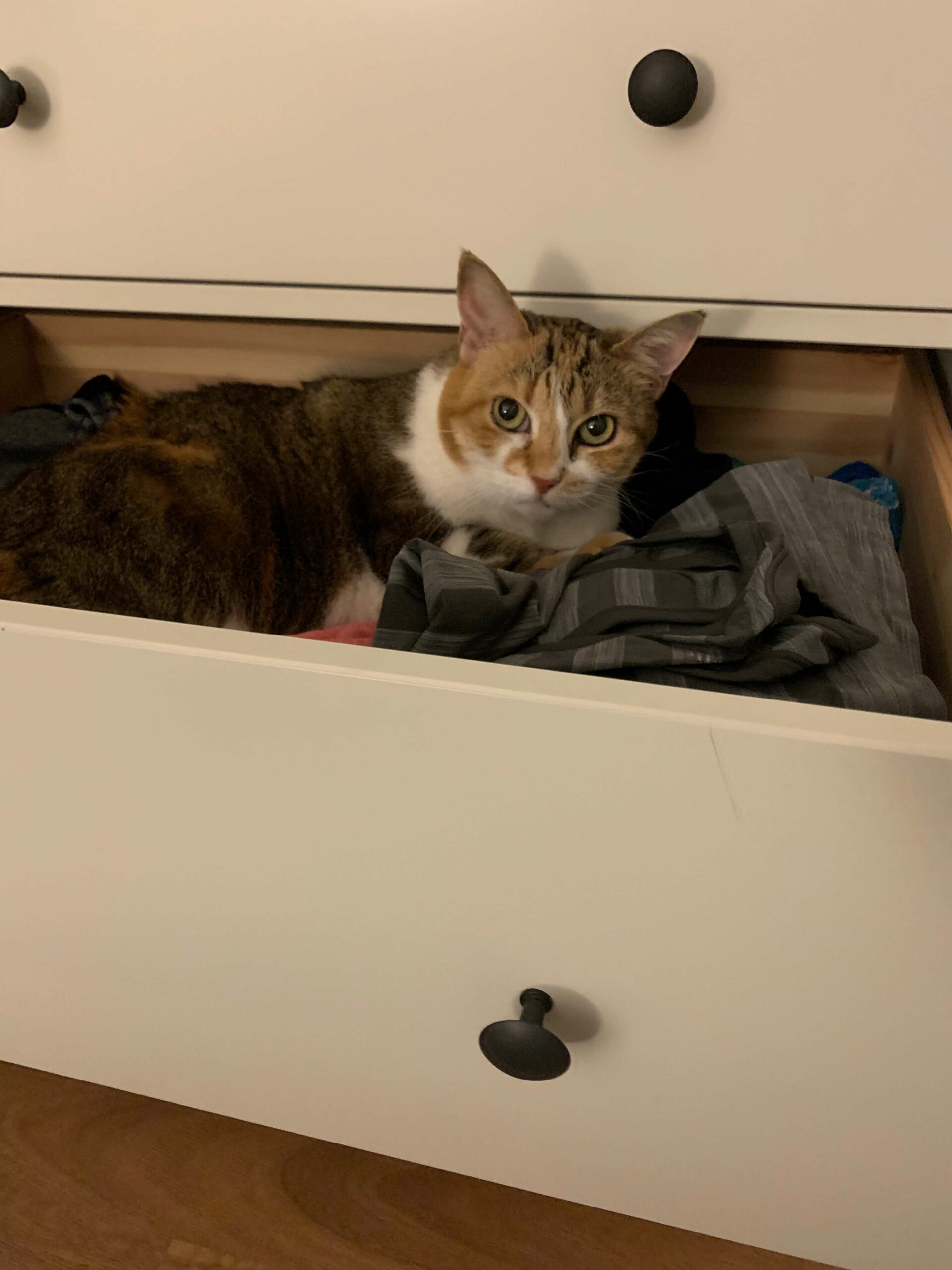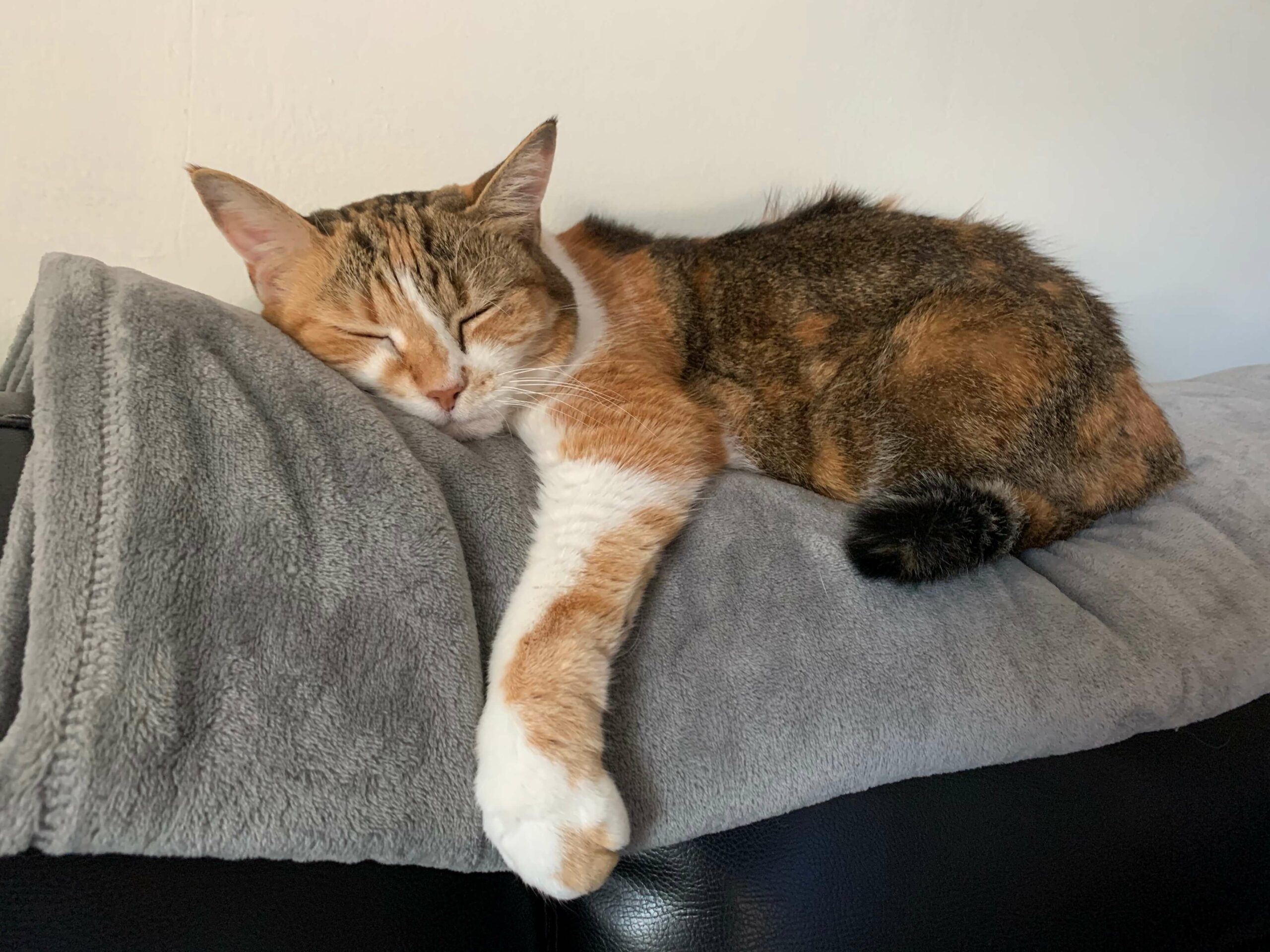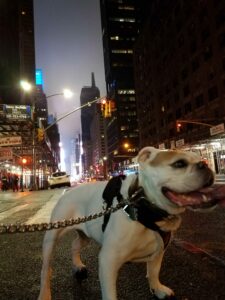 Gertrude "Gertie" Skosnik
June 10, 2007 – October 11, 2021
RIP Puppy. You were soo loved, and gave it back 10-fold…
I was born in Columbus, Indiana, June 10th, 2007. I was the last pick of my litter. Don't know why. I was the runt. Maybe I was too small for a bulldog??
I met my Guardian on August 21, 2007. It was love at first sight. I think that was his birthday too?
My first few years were filled with lots of discipline, but lots of love and fun! Cats (Leroy), Uncles (Joey), Grandparents (Momma and Pappa Squirrel), Aunts (Lauren), and cousins (Gracie and Izzy)
After that, my life got crazy, but even more fun! Been on several boats, two lakes, the Atlantic Ocean, the Marriott (both in downtown Indianapolis and NYC), and set paws on 18 different states!
I've tailgated at three different University football games. One of my favorite things. 🙂
My first cat friend (Leroy) had to move away. I was sad, but my Guardian brought home a new kitten. His name is Charlie Tuna. I love him even more…
In the middle years, we got into a routine. Not exciting, but content. Seasons would change. Long road trips to see the squirrels (I finally figured out that "the squirrels" were my Guardian's family). These trips always seemed to happen around what the humans call Christmas. I don't know what that is, but I like it. Lots of food and wrapping paper to play with…
Then something happened. My Guardian says the word COVID a lot. Our trips to see the see the squirrels suddenly stopped. I was sad but…
All of a sudden, my Guardian was home ALL THE TIME. This was the best time of my life! We were constantly together, even when he was "working." I still don't know what that word means…
But then, age and time started to catch up with me. I was tired all the time, having trouble walking, and just feeling Blue.
My Guardian took me to all of his human friends to try and fix me and make me feel better. It worked for a long while, but eventually it was too much. I was in pain…
My Guardian arranged things, and I fell into a blissful sleep on my favorite bed in the house. Charlie even came by for a final sniff/kiss. Cats remain a mystery to me, but I love them!
That was October 11th, 2021. I was told I lived almost twice as long as the average bulldog. Don't know why. I guess it's a combination of love from my Guardian, his friends and family, and a little luck…
For the record, I am Gertrude (Gertie) Skosnik. My Guardian is Patrick. We share the same last name.
I am still here, just in another form.
I notice that my Guardian, Charlie, and the squirrels are sad. Do they not realize I am waiting for them all, and will see them again on the other side of the rainbow bridge?
Last thing: I don't understand all the mysteries of this life. After all, I'm just a bulldog. But, I think we're all on this Earth to learn at least one important lesson.
And what did I learn? Family is family. Human, dog, cat, squirrel, and every combination in between…
Until we meet again…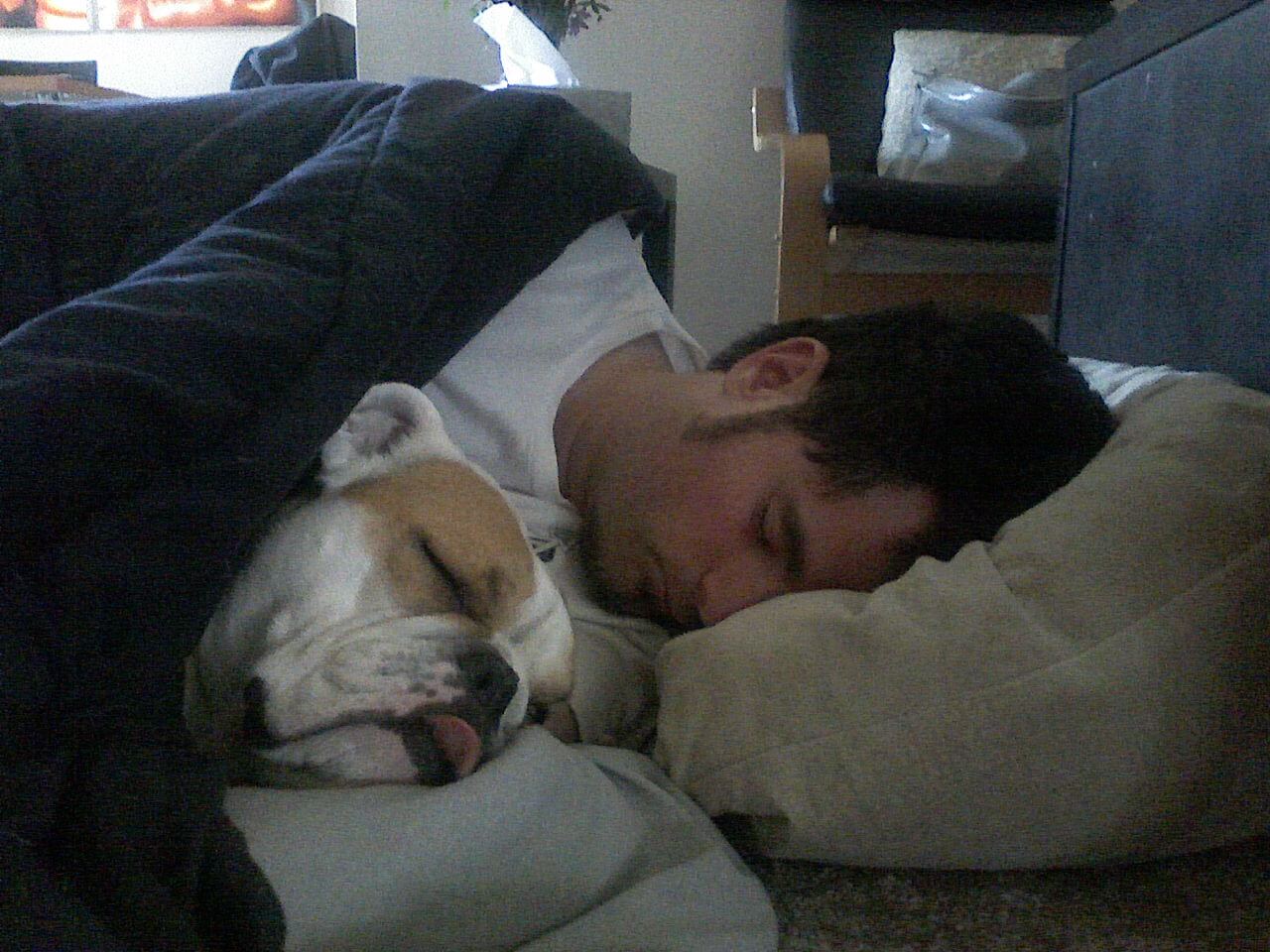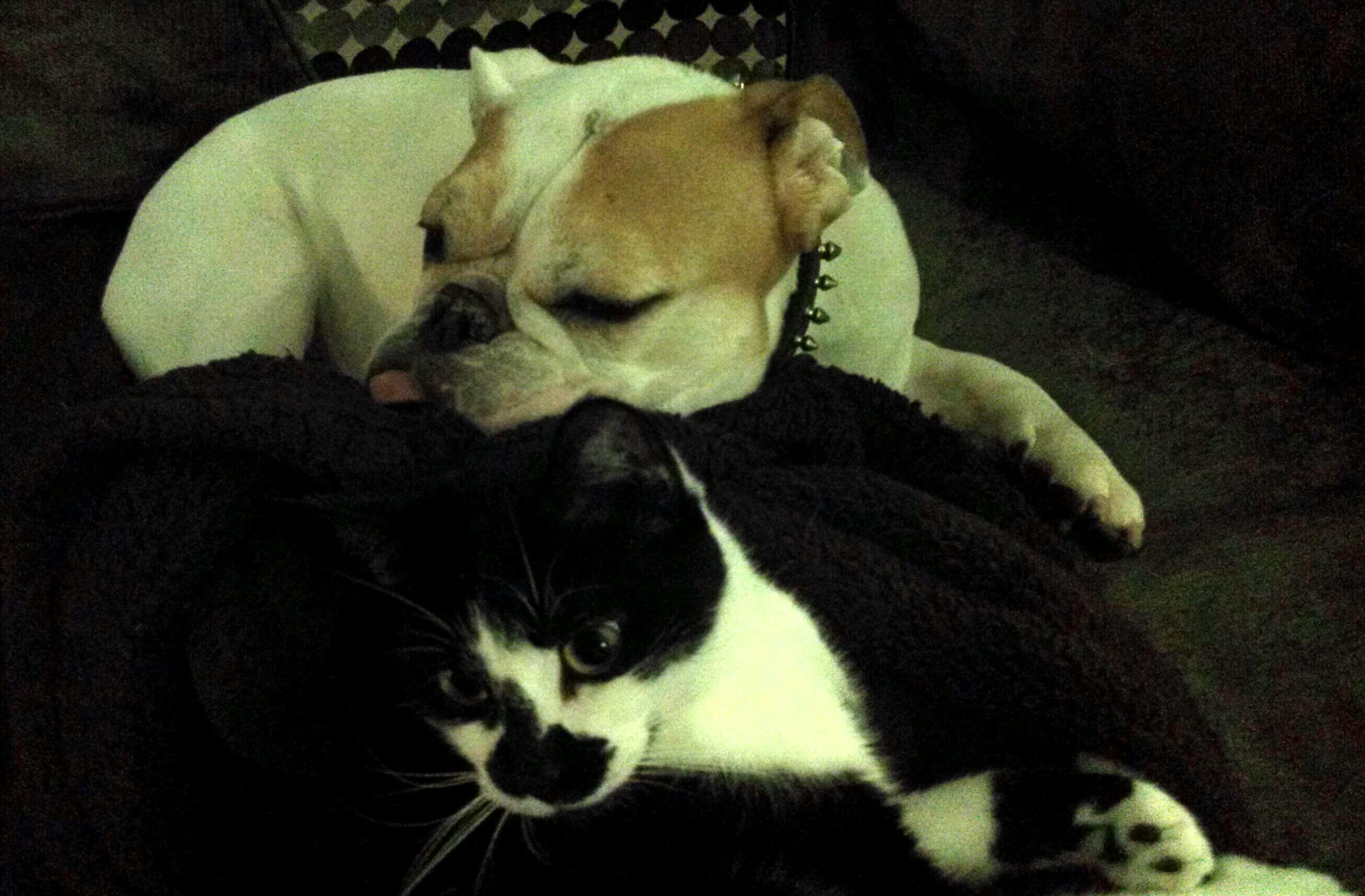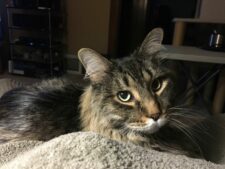 Suzi H.
Two years ago on 3/12/21, I faced the hardest day of my life. My sweet Duncan had diabetes and cancer and his body was giving out but his spirit was very strong. I made the painful decision to set my soul-kitty free. I called the Final Journey team before they opened and I received a call back almost immediately. They were gentle and understanding and acknowledged my struggle with this decision. They fit me in for later that evening. Dr. Kris and her assistant arrived and were a very calming presence. They gave me all the time I needed to tell stories about my beloved Duncan and validated how much he meant to me. They comforted me and validated that I was making the most compassionate and selfless decision for Duncan. They promised they would treat him with the care and respect I had shown him. And they did. It was as peaceful a moment in such a time of grief could be. They let me say when I was ready and gave me time to hold him after he was gone and say the goodbyes I needed, even though their schedule had been backed up earlier in the day and it was getting late. I watched as they carried my boy out, cradling him like a baby and gently placing him in their vehicle, even when they thought I might not be looking. From the call earlier that day, the moment they walked in, to the moment they drove away, they were caring, calming, and professional. I also knew April, who helps to deliver the ashes following cremation, prior. April knew Duncan and how much he was loved. She was also caring and professional with him in life, and with delivery of his remains as quickly as possible, knowing how much it would mean to have him back home. I can't say enough wonderful things about this team. In one of the worst moments of my life, they were there and showed compassion and care each step of the way. Duncan got to pass in his own home, in my arms, surrounded by love and compassion. I cannot thank the Final Journey team enough for that precious gift.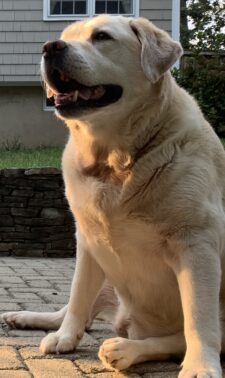 Marley (2/13/10-10/2/20)
A special girl who was such a big part of our family. When we look at the pool, we will think of you fondly as we remember your little polar bear swims and your bunny hops in the new fallen snow! Growing up with 3 boys wasn't easy but it sure was great having another girl in the house! We will forever remember the joy you brought to our lives.
We are so thankful to have met Dr. Kris and Ashley of Final Journey and can not say enough about the calm, gentle and dignified passing they afforded Marley. The experience they provided was the most compassionate ending for a pet that was truly a beloved family member. We were all fortunate to be able to spend the final moments with Marley in the comfort of her home – something that would not be a possibility during COVID. We felt very much supported by Dr. Kris and Ashley as they slowly proceeded through the steps, explaining everything to us. This is exactly what our family needed at this very difficult time.
Barbara, Tom, Connor, Ryan and Owen and Murphy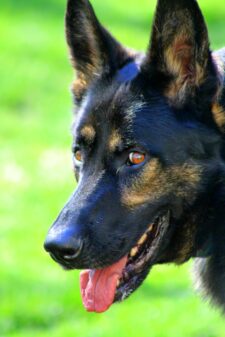 Koda
On August 25, 2021, we said "Run free and easy" to our beloved Koda. His arthritis in his knees and hips was too painful and I could not see my love bug struggle to stand, walk, etc. I know I did the right thing for all of us, though extremely difficult.
I learned from past experience. This time I brought in an in-home service (Final Journey). Koda was surrounded by love, in our home and drifted to eternity, leaving his worn out body behind. It was beautiful and so peaceful. Special thanks to Dr. Dana and Nathalie who were so comforting, loving, supportive and present. I could not have asked for two more compassionate people to help make Koda's transition easier for him and for us. Thank you from the bottom of my heart.
I told him to throw up signs for me. Not more than 30 minutes after Dr. Dana and Nathalie left, I was standing at the kitchen sink and a dragonfly hit the window in front of me with such force. It stopped. I looked at it and then it flew off. Sign #1. Sign #2 came when I was once again at the kitchen sink washing some of Koda's dishes. I looked at the stove clock and it read 11:11. Good boy, Koda.
Things will be much different for us. A large void has been created. But Koda's spirit will ease that physical void. The love he shared with us will always be.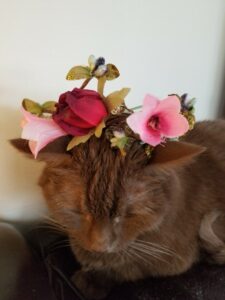 Cimba
I want to thank you, Dr. Sarina Hinsley, Sophia, Apryl, and Christina for your sympathy, compassion, and understanding following the loss of my Cimba earlier this month.
The delivery of my little Munchkin cat Cimba back home to me has brought me much comfort and has helped to ease the pain.
Today is my Birthday and has not been easy for me not to be able to share that day with her as in the past but I held her close to me today, in a different form, and I am so thankful for that.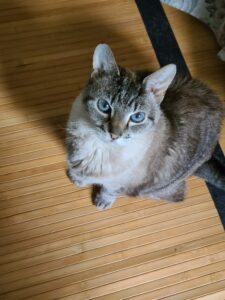 Snowy
Thank you Dr. Kris and Kevin for making Snowy feel loved and comfortable. Hold her on my chest was the best gift for me. You both were so awesome. To have Snowy in her surroundings, and in my arms was the greatest feeling. I will cherish that memory forever. Thank you. 
Snowy. Our beloved blue-eyed baby girl. Our BooBoo girl. The house feels so empty. Along with our hearts. We love you BooBoo.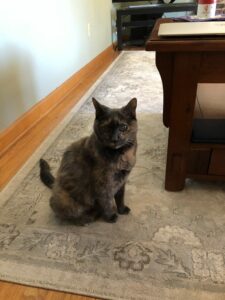 Smudge
We wish to thank Dr. Clevenger and Kevin for being so kind and compassionate during this very difficult time.
We were so very blessed to have Smudge with us for 21 years. She was truly a member of our family. We could not imagine doing this in any other way.
Mike & Denise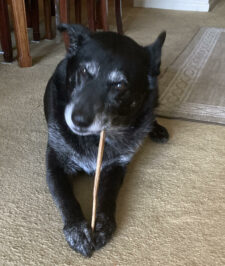 Deacon
August 31, 2023
Dear Dr. Kristin Klie and Tech Kevin,
We greatly appreciate the gentle, caring and compassionate manner with which you handled our sweet boy Deacon. He was a lab/husky mix, almost 10 years old and was with our family almost 3 years.
Last fall the vet diagnosed Deacon with a mass on his liver. It was close to his heart so surgery was very risky. His back legs would not support him anymore and he'd fall down the stairs. The meds the vet recommended no longer worked. Deacon could no longer control his bowels. His quality of life was low. There were no more medical remedies available to help Deacon's health improve. We made the difficult decision to have you come to our home on 8/16/23. 
Deacon was surrounded by his family as we pet and spoke to him as he crossed over the Rainbow Bridge. Deacon is now running and playing with Ceasar, who Dr. Klie helped pass on 6/29/29 at almost 16 years old. Dr. Klie hugged us and then she and Kevin gently lifted Deacon onto a stretcher. Deacon was treated with  dignity and respect as he was wrapped in a doggie blanket. Then you carried Deacon to your vehicle.
We appreciate the beautiful sympathy card with handwritten words of condolences and comfort about Deacon. We carry sweet memories of Deacon in our hearts and minds. As I write this our 1 year old grandson is holding a picture of Deacon. He keeps looking for Deacon and wonders if he's playing hide and seek in the house.
Dr. Klie and Tech Kevin you are very worthy of our trust for Deacon's and Ceasar's Final Journey. It was "peaceful, in home, on our time, gentle and humane."  Thank you very much. You have my permission to post this testimonial anywhere you deem appropriate. 
Sincerely,
Joan C Paolucci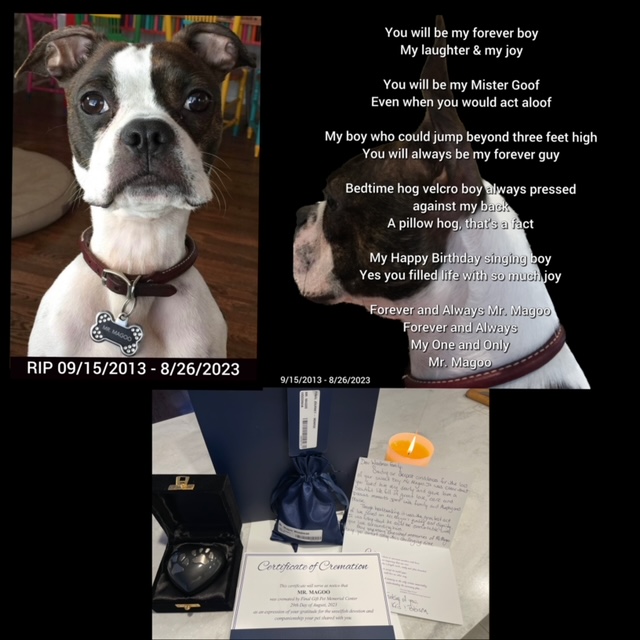 Mr. Magoo
I want to extend my heartfelt gratitude on behalf of myself, Murphy & Maisie to Dr. Kris & Bibiana for the empathy & compassion you provided to Mr. Magoo and us a week ago today, Saturday 8/26. I will be forever touched by how he was "swaddled with love like a newborn" when he left with you 🥰.
Kevin brought Mr. Magoo home to us with an equal level of empathy & compassion on Thursday.
Mr. Magoo will be forever loved & missed. He was a loving and faithful companion who truly brought joyful life to each of us every single day.
The attached video (recaptured from my Instagram acct) is a brief glimpse of life with Mr. Magoo that we hope brings smiles to you.
With Deep Appreciation,
The Woodman Family