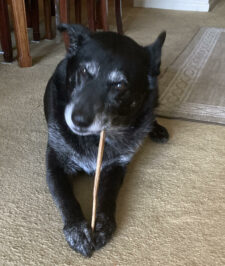 Deacon
August 31, 2023
Dear Dr. Kristin Klie and Tech Kevin,
We greatly appreciate the gentle, caring and compassionate manner with which you handled our sweet boy Deacon. He was a lab/husky mix, almost 10 years old and was with our family almost 3 years.
Last fall the vet diagnosed Deacon with a mass on his liver. It was close to his heart so surgery was very risky. His back legs would not support him anymore and he'd fall down the stairs. The meds the vet recommended no longer worked. Deacon could no longer control his bowels. His quality of life was low. There were no more medical remedies available to help Deacon's health improve. We made the difficult decision to have you come to our home on 8/16/23. 
Deacon was surrounded by his family as we pet and spoke to him as he crossed over the Rainbow Bridge. Deacon is now running and playing with Ceasar, who Dr. Klie helped pass on 6/29/29 at almost 16 years old. Dr. Klie hugged us and then she and Kevin gently lifted Deacon onto a stretcher. Deacon was treated with  dignity and respect as he was wrapped in a doggie blanket. Then you carried Deacon to your vehicle.
We appreciate the beautiful sympathy card with handwritten words of condolences and comfort about Deacon. We carry sweet memories of Deacon in our hearts and minds. As I write this our 1 year old grandson is holding a picture of Deacon. He keeps looking for Deacon and wonders if he's playing hide and seek in the house.
Dr. Klie and Tech Kevin you are very worthy of our trust for Deacon's and Ceasar's Final Journey. It was "peaceful, in home, on our time, gentle and humane."  Thank you very much. You have my permission to post this testimonial anywhere you deem appropriate. 
Sincerely,
Joan C Paolucci